The Baby Jogger City Mini Double stroller is a favorite among may parents.  What's not to love about a lightweight double stroller which folds with one hand, is super comfortable for your child and turns into an amazing travel system with the addition of some easy to use adapters? 2020 is suiting up to be a wild ride with amazing upgrades on beloved stroller including the classic City Mini double. The City Mini double is sure to make a splash in 2020 with all it's upgraded features, Baby Jogger has made their already amazing City Mini double that much better in the City Mini2 double.
Adjustable Calf support
The most significant upgrade for the City Mini2 Double stroller is the adjustable footrest which allows parents to access the underseat basket through the front as well as the back. This not only adds some extra comfort for your child it also utilizes the storage to it's maximum potential.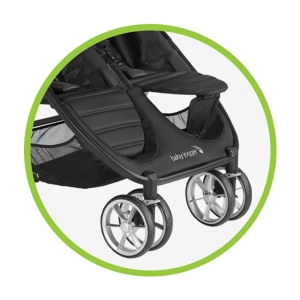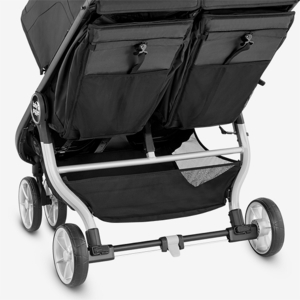 New Design
The fabric and design options have changed to look sleeker. It's new updated design is sleek and nimble making it easy to maneuver. This stroller is perfect for growing families looking for a nimble simple stroller that is easy to fold and unfold as well as accept a car seat and bassinet.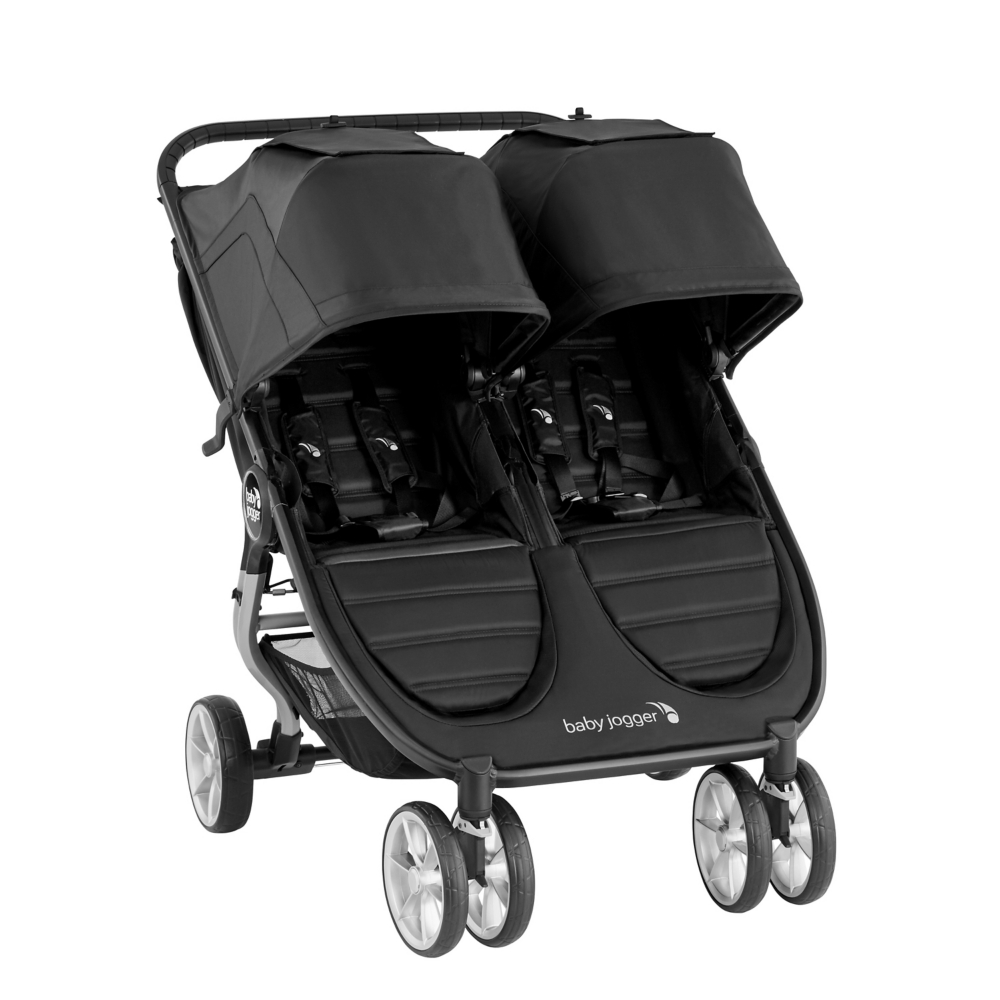 Accessories
The City Mini2 Double will be sporting some different accessories as well! Make sure to keep on the lookout for some updates on the belly bars and snack trays which will now be individual for each seat.
---
The Same Beloved Features
Canopies
Both the City Mini Double and the City Mini2 Double  have UV50 canopies that are large and spacious with two velcro peekaboo windows. It does not come with an adjustable handlebar.
Smooth Ride
Both strollers have the same smooth ride with EVA wheels. They both have front wheel suspension and a convenient non adjustable handlebar. It is important to note that all though the wheels,suspension and handlebar has not changed, the actual design of the City Mini2 is said to be more nimble and easier to maneuver.  The brakes are the same footbreaks as well.
Comfortable Seats
Parents can expect the same near flat recline on both seats. Babies can comfortably nap or take the views of the world with both these seats.  Parents can Create a travel system to stroll with baby from day one by addingthe City GO™ infant car seat or City Mini 2 Double Pram (sold separately).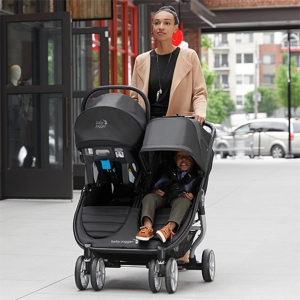 Fold
The classic Baby Jogger fold is not changing,all parents have to do is pull both seat straps and this double stroller folds right into itself.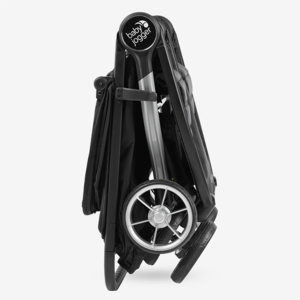 ---
Check out our comparison chart down bellow ⇓
City Mini Double VS City Mini2 Double

 
City Mini Double
City Mini2 Double
Dimensions
38.5″ x 29.75″ x 41.5″
40″(L) x 29.75″(W) x 40″ (H)
Folded Dimensions
11.25″ x 29.75″ x 31″
15.25(L) x 29.75″ (W) x 30.50″(H)
Canopy
2 peek-a-boo windows on each side (with velcro)
2 peek-a-boo window (with velcro)
Weight
26.6 lbs

31.8 lbs

Weight Capacity
100 lbs
Up to 50 lbs. in each seat
Wheel Size
8″

8″

Wheel Type
lightweight EVA
EVA
Suspension
Front Wheel
Front Wheel
Brake
Foot Brake
Foot Brake
Adjustable Handlebars
No
No
Reversible Seat
No
No
Adjustable Leg rest
No
Yes
Recline
Multi Position, Near Flat
Multi Position, Near Flat
Head Height
23″

TBA*

Compatible Car Seats
Cybex, Maxi Cosi, Graco, Baby Jogger
Baby Jogger, Britax, Cybex, Graco, Maxi Cosi, BeSafe
Price
$449.99
$499.99
*  Information has yet to be released 
---
Check out our comparison video down below ⇓
---
City Mini2 Double ⇓                           City Mini Double ⇓
As a mom myself, I'm passionate about keeping up with the industry trends in the world of baby gear. With the ever-changing world of technology and innovation, there's always something new to research and share! Follow me at PishPosh Baby for the best advice and guidance so you can choose the gear that's right for your family and lifestyle!