Currently, Chicco has 2 frame strollers in their lineup. The Chicco KeyFit Caddy & Shuttle are their two click-and-go strollers. These strollers are designed just to be the frame with the purposes of the infant car seat to click in the place of where the seat would sit on regular strollers.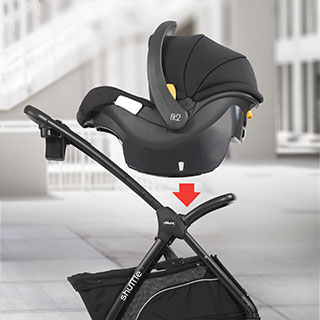 Which Car Seats can I use?
The Shuttle and the Caddy accept all Chicco infant car seats (sold separately) with secure, click-in attachment.
Specs
The Keyfit Caddy has a lightweight aluminum frame that weighs 11.6 lbs. The shuttle on the other hand is slightly heavier at 15 lbs. they both have easy compact folds and the Shuttle has a fold/carry handle for a one-hand, free-standing quick fold.
Maneuverability
Both strollers have EVA Foam tires with all-wheel suspension. The Keyfit Caddy offers an adjustable handlebar with 4 height positions to accommodate any height parent. The Shuttle has a fixed handlebar.
Storage
Both strollers offer plenty of under-seat storage options, the Keyfit is zippered. They both also have a parent tray with two cup holders and a storage compartment.
Price
The Chicco Keyfit Caddy retails for $99.99 while the Shuttle retails for $119.99.
---
Compare the Keyfit Caddy VS Shuttle
| | | |
| --- | --- | --- |
| | Keyfit Caddy | Shuttle |
| Car Seat Compatibility | All Keyfit & Fit2 | All Keyfit & Fit2 |
| Weight | 11.2lbs | 15lbs |
| Weight capacity | Up to 35lbs by Car Seat Only | Up to 35lbs by Car Seat Only |
| Adjustable Handlebar | Yes | No |
| Handlebar Height | 4 Positions (35.5, 37.5, 39.5, 41.5 in) | 1 Position (41.5 in) |
| Parent Tray | Yes | Yes |
| Tire Type | EVA Foam | EVA Foam |
| Price | $99.99 | $119.99 |
Shop all Chicco strollers: www.pishposhbaby.com/chicco-strollers

As a mom myself, I'm passionate about keeping up with the industry trends in the world of baby gear. With the ever-changing world of technology and innovation, there's always something new to research and share! Follow me at PishPosh Baby for the best advice and guidance so you can choose the gear that's right for your family and lifestyle!