The Chicco Bravo Mini line currently consist of the Chicco Bravo Mini and the Bravo Mini Plus. While these two strollers are similar the Mini Plus lives up to it's name as being everything Bravo Mini with some plus features. Both good choices and both have great features the Plus version just has a few extra features the regular Mini does not have.
Specs
Their specs differ slightly with the Plus being the slightly bigger and heavier of the two. The Bravo Mini has dimensions of 29.3 x 12.1 x 17.4 and weighs 18.5lbs. The Bravo Mini Plus in comparison weighs 19.6 and has dimensions of 29.3 x 11.9 x 17. Both strollers have convenient fold/carry handles for a one-hand, free-standing quick fold.

Travel System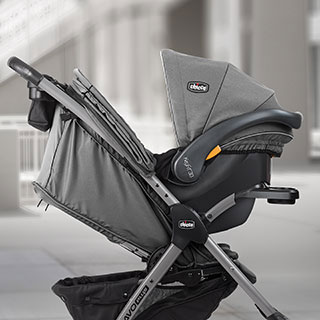 Another area where their features vary is car seat compatibility. The Chicco Mini Bravo Plus is compatible with all KeyFit® and Fit2® infant car seats with click-in attachment. The regular Bravo Mini is not car seat compatible so if parents want a travel system they have to got with the Bravo Mini Plus.
Maneuverability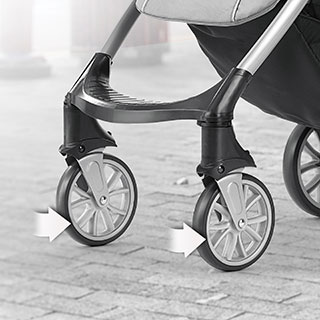 Both the Bravo Mini and Mini Plus have superb maneuverability with EVA foam tires with sleek swivel front wheels. They both also have all-wheel suspension and toe-tap locking rear brakes ensuring a smooth ride and a smooth stop. The comfortable easy grip handlebars found on each stroller provides easy steering as well.
Comfort
The seats on both the strollers are unreal on how comfy they are! They both have 3 position reclining seats and they stay cool in their strollers no matter the weather because of their adjustable canopy with with a mesh extension panel.
Storage
Both strollers offer plenty of storage with their generous under-seat storage basket which offers plenty of room to bring all baby essesntials. Both strollers also offer two cup holders and parent tray to store anything you might need to take with you on your family adventures. The Mini Plus also offers a detachable child tray folds down for compact storage.
Price
The Chicco Bravo Mini retails for $149.99 and the Bravo Mini Plus retails for
Compare the Chicco Bravo Mini & Bravo Mini Plus
| | | |
| --- | --- | --- |
| | Bravo Mini | Bravo Mini Plus |
| Dimensions | 29.3 x 12.1 x 17.4 | 29.3 x 11.9 x 17 |
| Car Seat Compatibility | x | All Keyfit & Fit2 |
| Product Weight | 18.5 | 19.6 |
| Weight Capacity | 6 months to 50 lbs | 6 months to 50 lbs |
| Canopy Positions | 2 Panel and visor | 3 Panel extendable with Zip Mesh Panel |
| Seat Recline | 3 Positions | 3 Positions |
| Handlebar height | 41.5′ | 41.5′ |
| Parent Tray | Yes | Yes |
| Removable Child Tray | x | Yes |
| Tire Type | EVA Foam | EVA Foam |
| Leg Rest Positions | 1 | 1 |
| Price | $149.99 | $179.99 |
Shop All Chicco Strollers: www.pishposhbaby.com/chicco-strollers
As a mom myself, I'm passionate about keeping up with the industry trends in the world of baby gear. With the ever-changing world of technology and innovation, there's always something new to research and share! Follow me at PishPosh Baby for the best advice and guidance so you can choose the gear that's right for your family and lifestyle!