Make mealtime even better with a high quality, beautiful high chair for your baby! Stokke has three different high chair options that will bring style to your home. We love these high chairs for their impressive design and practical features, and we're sure you will too! Stokke combines European-made quality with chic Scandinavian design to bring us these exclusive, luxurious high chairs!
Stokke Tripp Trapp High Chair
We love the design of the Stokke Tripp Trapp high chair – it features a modern, simplistic construction and sturdy European Beech wood that will blend beautifully and add style to any contemporary kitchen!
Long Term Use
The Babyset is actually an add-on item (sold separately), and if it isn't attached to the seat, the seat will function as a regular chair! This chair can be used for years, since it can hold up to 200 pounds!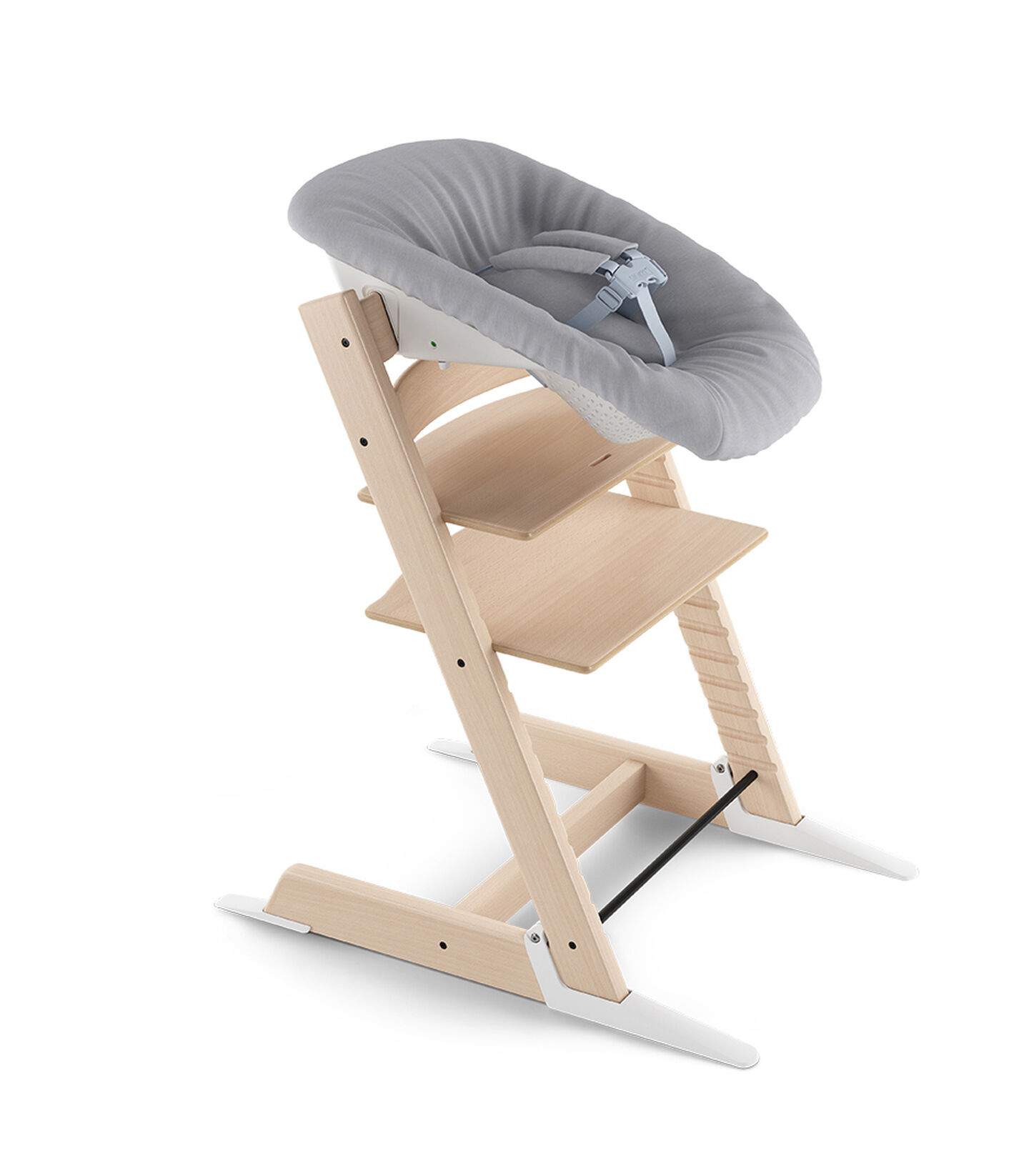 Newborn Set
There's actually an option to get a newborn set to go along with this high chair, that enables this high chair to be used from day one!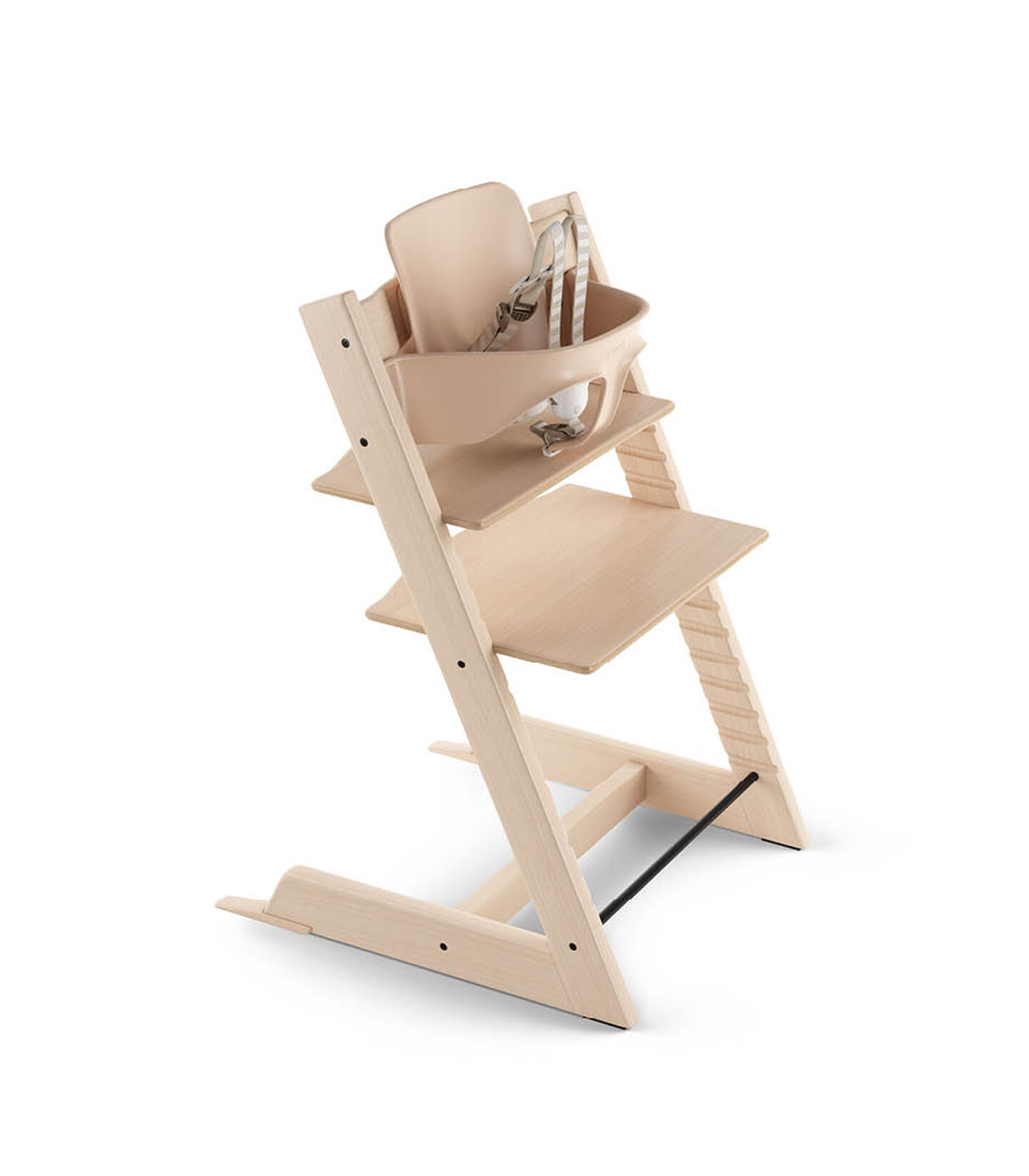 Baby Set
The Babyset will turn your Tripp Trapp chair into a high chair! The baby set is a seat that you attach to the chair. It has a 5-point harness. We love that the baby set is dishwasher safe, and there's also a detachable machine washable harness to keep your baby secure!
People do find the straps to be a little hard to work with, though, so keep that in mind. Also, the Tripp Trapp Babyset is a little smaller than the Steps Babyset.
Size
This is a thin high chair that'll fit your baby comfortably but won't take up too much space in your kitchen! It's the perfect choice for urban moms or anyone who's tight on space.
Adjustable
The adjustable foot and seat plates make this a high chair that you'll be able to use for as long as needed! This is a high chair that grows with your baby. Family mealtime makes memories for years to come, and with this high chair, you can let your little one be a part of it, and you can also easily keep an eye on him during mealtime!
Tray
The Stokke Tripp Trapp tray comes in three colors and is designed to fit right into your table, so that your baby can be a part of mealtime! It's dishwasher safe, and designed to be used with the Stokke baby set.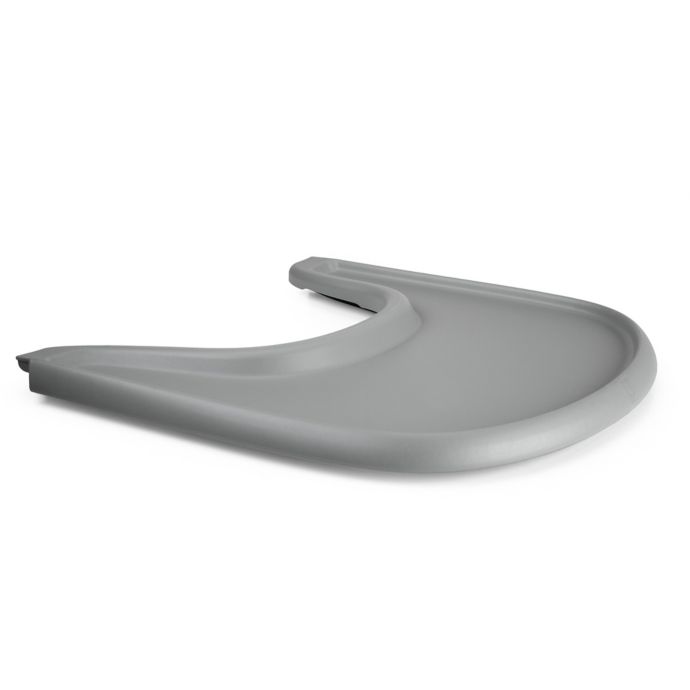 Cushion
If you're looking to invest in a Stokke high chair, one add-on feature you don't want to miss is the cushion. You can use it from 6 – 36 months, and it'll keep your baby so comfortable! It's especially awesome because it gives your baby extra support.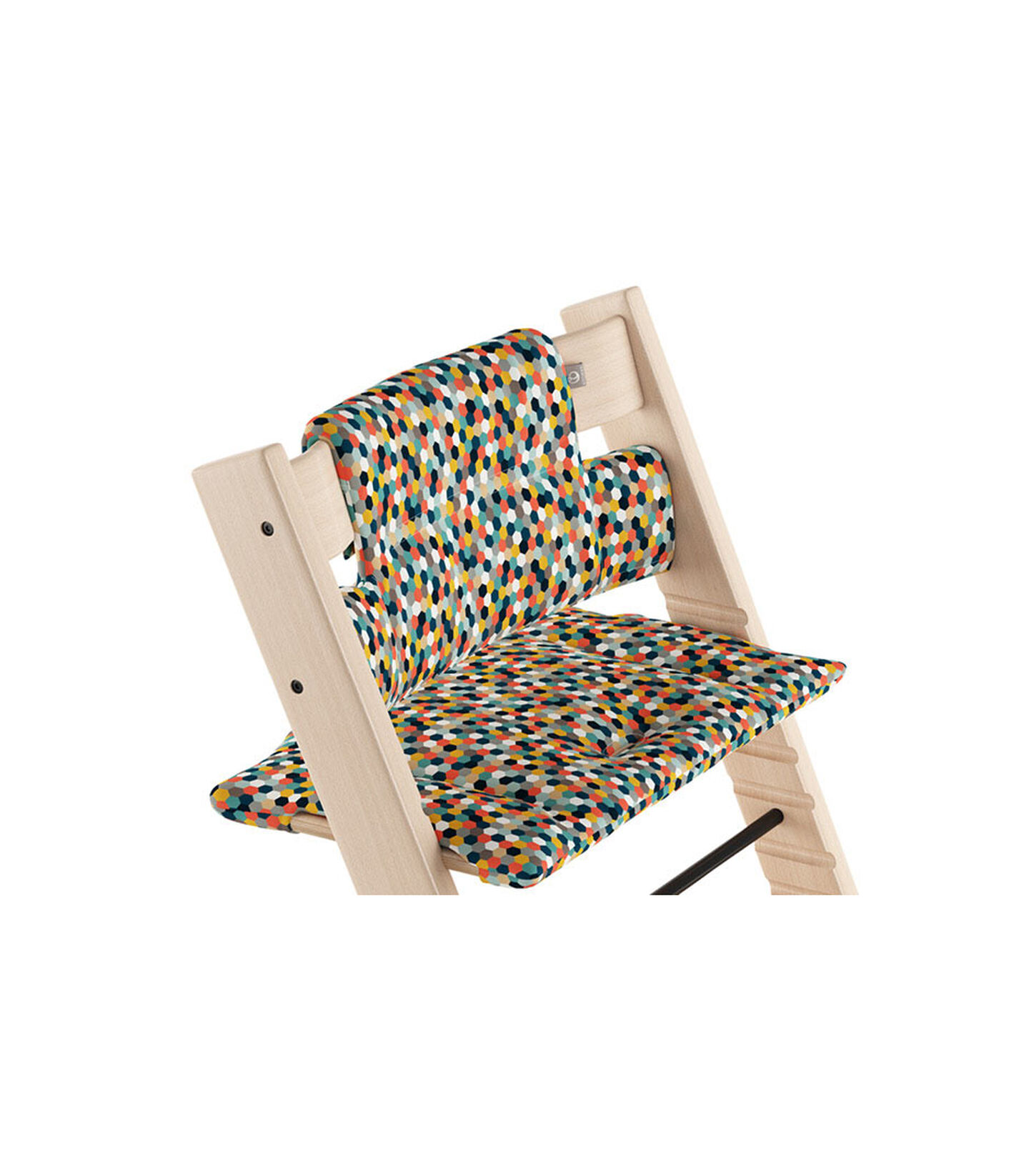 Cleaning the Tripp Trapp
We love that the Stokke Tripp Trapp high chair is so easy to clean! There are no crevices or padding to deal with – all you need to do is wipe it down, and you're done!
Posture Support
Also, this high chair has excellent positioning. It ensures that your little one has proper posture, which can keep baby more focused at mealtime! Lack of support will cause your baby to get tired much faster, so that's why a high chair with proper support is so awesome.
Warranty
Once your child is too old for a high chair, you can remove the Babyset and use this as a regular chair! The Stokke Tripp Trapp High Chair comes with an extended warranty. Fact is, this is a really cool and stylish high chair that is as strong and sturdy as anything. Build it once, and it should last for years and years!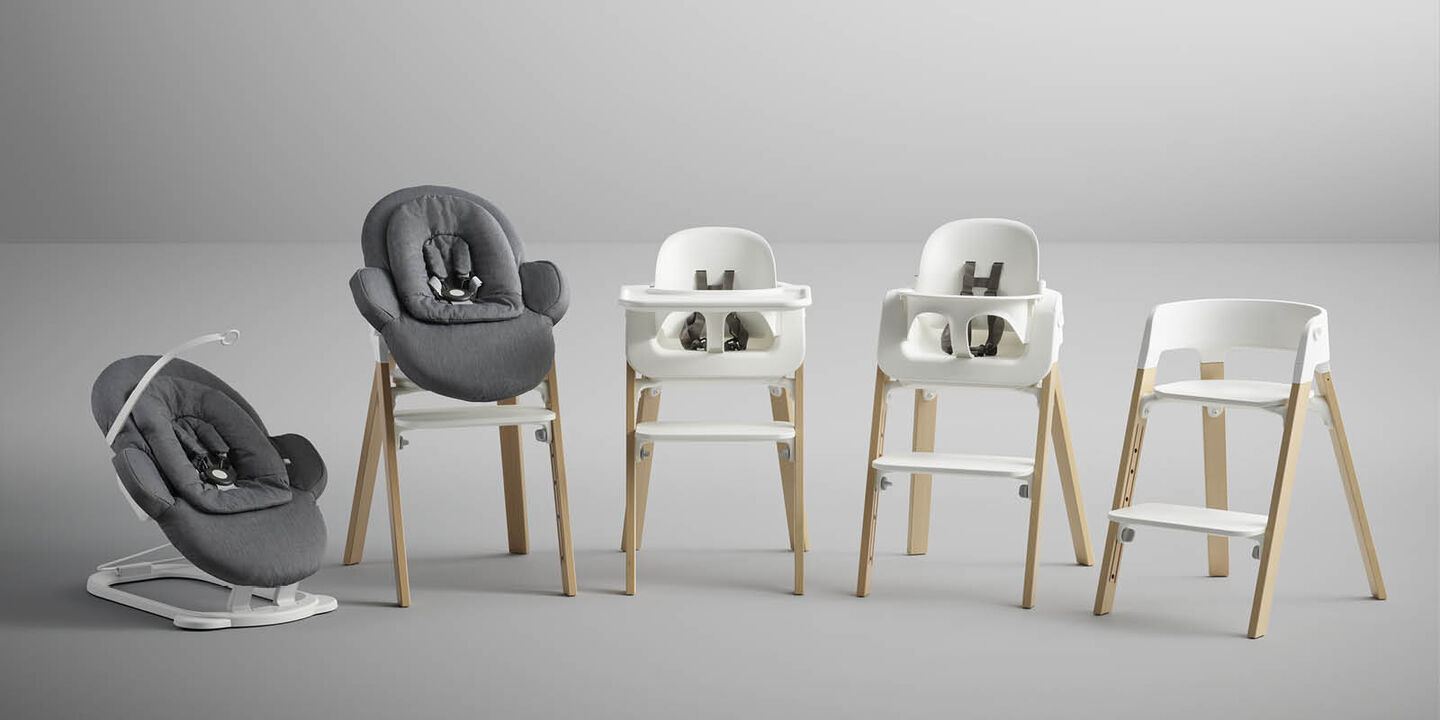 Stokke Steps
The next high chair we have from Stokke is the Stokke Steps! We love the look of this high chair – it's sleek and modern and has such a trendy design! Crafted from natural European Beech wood, this high chair can totally add to the decor in your kitchen. The Stokke Steps is a three part system. It's really cool, and can be used in three different ways – as a bouncer, high chair, or footstool!
Stokke Steps Bouncer
The Stokke bouncer gets attached to the Steps chair. It's the perfect way to have your baby join the family for mealtime! But you don't only have to use it at the table – if you don't attach it to the chair, you'll have a regular bouncer for your newborn baby! The Stokke bouncer has a sturdy base, and can even fold up for storage!
Stokke Steps Highchair with Babyset
The Stokke Steps Babyset enables this to be used as a regular high chair! This high chair is easy to clean, has an ergonomic design, and, like the other Stokke high chairs, it's very supportive! As long as the footrests are properly adjusted, this high chair will have your kid positioned right.
Stokke Step Stool
And when your little one is too big for the high chair, it's time for step 3 – you can now use the Stokke Steps as a step-stool!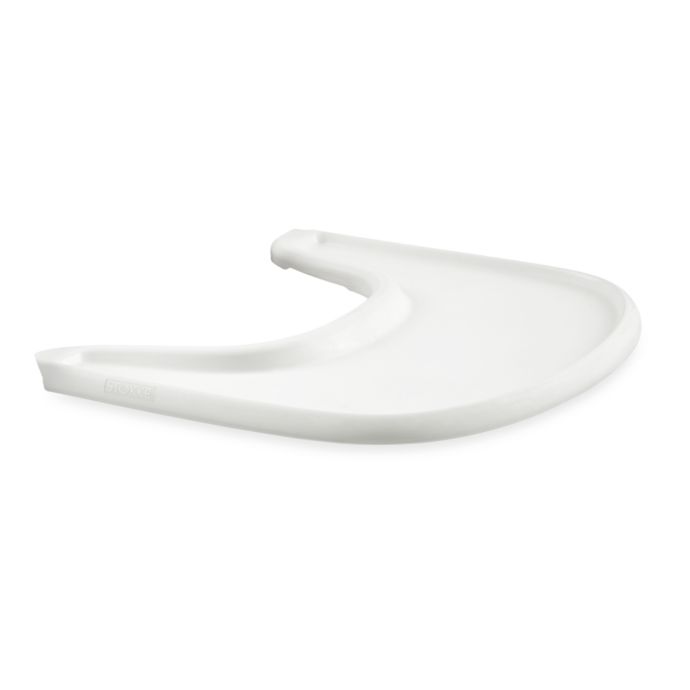 Tray
There is an add-on high chair tray (sold separately) that goes with the Babyset – it's really large, and has a lot of space!
Adjustability
Stokke Steps has a footplate that is adjustable, to support your child as he grows! It has 3 different height options, so that your child can sit in the best possible position.
The Stokke Steps is designed to be used for children ages 6 months to 3 years.
Easy to Clean
We love how easy the Stokke Steps is to clean! The bottom of the tray is a bit more tedious, but besides that part, it's really simple – you can wipe this high chair down in minutes!
Stokke Clikk
The Stokke Clikk high chair is a sleek, simple high chair that is super easy to assemble since you just need to click together a few parts, and it's even easier to use! This is the only Stokke high chair that you don't need any tools to assemble! It's not as compact as the Tripp Trapp since it isn't as narrow, but it has plenty of other advantages! The biggest plus is the price. The Stokke Clikk retails for just $169.99 for the entire high chair!
The Steps and Tripp Trapp high chairs are also $199.99, but the difference is that with these two, in order to use them as a high chair, you need to also invest in additional features, such as a tray, baby seat, and other components.
The Stokke Clikk is just one purchase – and you get everything! It can't be used for as many years as theTripp Trapp – like the Stokke Steps, it's only for ages one to three. This is simply a basic high chair, meant to be used as just that!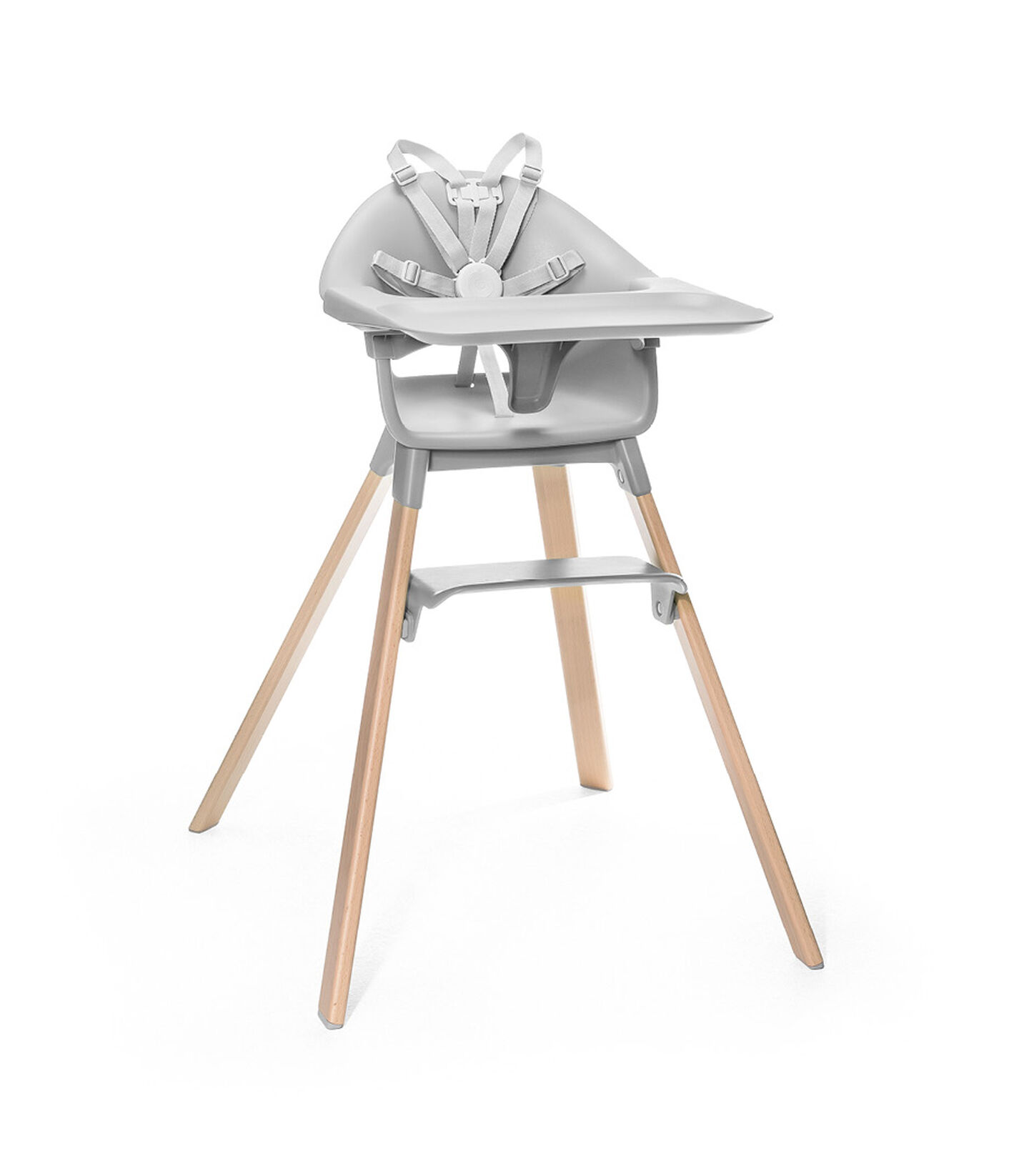 Design
The Clikk has a modern, trendy design, complete with legs made from beautiful natural beech wood. There's a footplate that can be switched between two positions, and the seat is designed to promote good posture.
Portable
If you're looking for a high quality high chair that you can take along on trips, this one's an awesome choice! It's easy to take apart and put together (takes minutes!), and takes up very little space once you take it apart. It's also real lightweight, and easy to move around.
Easy to Clean
This high chair is super easy to clean! The tray is dishwasher safe, so you can just pop it in to the dishwasher and you're done! The straps come off easily, and can be washed in the washing machine.
Adjustable Footrest
As your child grows, you can adjust the footrest accordingly! In case you haven't noticed, footrests are a basic Stokke high chair standard – the Stokke Steps & footrests feature footrests too! The footrest on this high chair comes with two different settings.
Versatile
When your little one is between stages, too big to sit in a high chair but too little to sit without one, the Clikk is the perfect solution! This chair can be used with the tray as a regular high chair, or without the tray as a toddler seat!
FAQ's
Q: Does the Stokke Tripp Trapp fold?
A: The Tripp Trapp is not a foldable high chair, but it does have a slim design and therefore won't take up too much space.
Q: What's the cheapest Stokke high chair?
A: The Clikk high chair is the cheapest Stokke high chair. It combines trademark Stokke quality with affordability!
Q: Can Stokke trays go in the dishwasher?
A: Stokke trays are able to be washed in the dishwasher. These trays are dishwasher safe up to 160 degrees Fahrenheit.
Q: Can you wash the Stokke high chair harness?
A: The Stokke harness can be removed and then washed in the washing machine at 40 degrees.
| | | | |
| --- | --- | --- | --- |
| | | | |
| | Stokke Tripp Trapp | Stokke Steps | Stokke Clikk |
| Chair Weight | 19.5 lbs | 14.92 | 8.3 |
| High Chair Age Range | 6 months – 3 years | 6 months – 3 years | 6 months – 3 years(33 lbs) |
| Chair Weight Capacity | 300 lb | 187 lbs | X |
| Dimensions | 18"L x 19.5"W x 30"H | 24" x 16.9" x 28" | 27.2"L x 32.5"W x 22.1"H |
| Adjustable Leg Rest | Yes | Yes | Yes |
| Cushion | Yes | Yes | Yes |
| Price Starting At | $199.99 | $199.99 | $169.00 |
As a mom myself, I'm passionate about keeping up with the industry trends in the world of baby gear. With the ever-changing world of technology and innovation, there's always something new to research and share! Follow me at PishPosh Baby for the best advice and guidance so you can choose the gear that's right for your family and lifestyle!